Posted January 22nd, 2009 by jpritikin
photo: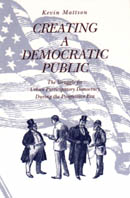 [original] "Ultimately Mattson challenges readers to reconsider contemporary conceptions of democracy that view citizens as consumers, and he contributes to contemporary discussions of ways to invigorate democratic practice. Highly recommended for all readership levels."-Choice
"In an era of quickening concern about citizenship and community in contemporary America, we have a lot to learn from the community-building activities of Progressive Era reformers. Kevin Mattson's instructive account of their successes and failures is a timely contribution."-Robert D. Putnam, Harvard University
"The Progressive Era was filled with the rhetoric of democracy, but in recent years historians have found the meaning of progressivism rather in various hierarchies of power. Kevin Mattson's considerable accomplishment in this fine book is to recover the era's emergent democratic public and its localized activities, from adult education to political meetings. Mattson's openly committed history is important for its more complicated rendering of progressive democracy, for its elaboration of a lively public culture, and for the encouragement it offers to the project of participatory democracy." -Thomas Bender, New York University
"Kevin Mattson's book recovers one of the most important moments in the history of genuinely democratic reform in American history. A major contribution to the rethinking of progressivism, this book also offers a usable past to those struggling in the present to render our politics and culture more democratic."-Robert Westbrook, University of Rochester
During America's Progressive Era at the beginning of the twentieth century, democracy was more alive than it is today. Social activists and intellectuals of that era formed institutions where citizens educated themselves about pressing issues and public matters. While these efforts at democratic participation have largely been forgotten, their rediscovery may represent our best hope for resolving the current crisis of democracy in the United States.
Mattson explores the work of early activists like Charles Zueblin, who tried to advance adult education at the University of Chicago, and Frederic Howe, whose People's Institute sparked the nationwide forum movement. He then turns to the social centers movement, which began in Rochester, New York, in 1907 with the opening of public schools to adults in the evening as centers for debate over current issues. Mattson tells how this simple program grew into a national phenomenon and cites its achievements and political ideals, and he analyzes the political thought of activists within the movement—notably Mary Parker Follett and Edward Ward—to show that these intellectuals had a profound understanding of what was needed to create vigorous democratic practices.
Creating a Democratic Public challenges us to reconsider how we think about democracy by bringing us into critical dialogue with the past and exploring the work of yesterday's activists. Combining historical analysis, political theory, and social criticism, Mattson analyzes experiments in grassroots democracy from the Progressive Era and explores how we might foster more public involvement in political deliberation today.
Mattson, K. (1998). Creating a Democratic Public. Pennsylvania State University.